When your world relies on near-instant connections, slow Wi-Fi can become frustrating obstacle for work, school, and life in general.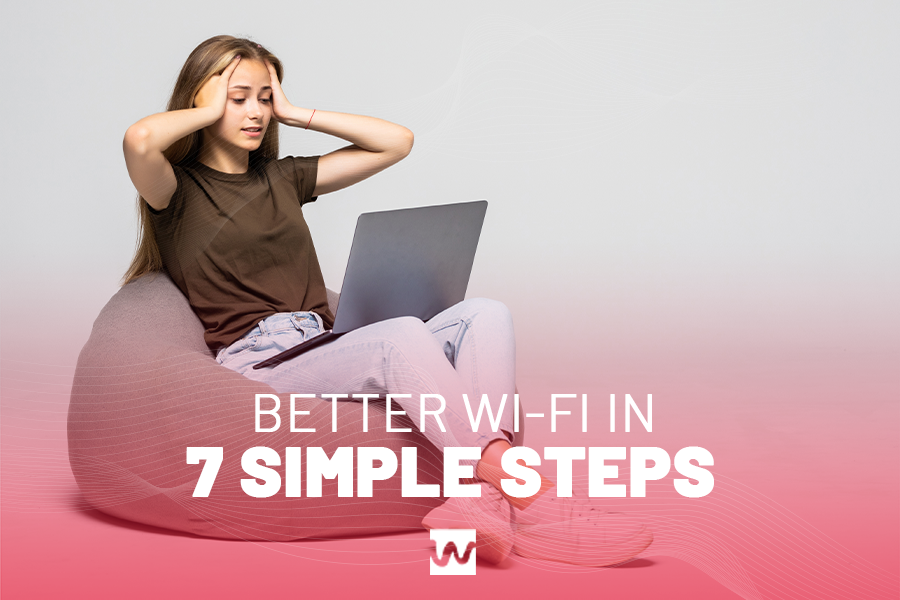 Try improving your Wi-Fi in 7 simple steps. 
1. Turn things off and on again
Everything needs a break once in a while – especially your router. 
If your internet is acting up, resetting your router is a good place to start troubleshooting. A quick reset will clear its memory and give it a fresh start on tasks that were slowing it down before. 
2. Make sure you're on the right frequency band
Nowadays routers work primarily on two radio frequency bands: 2.4 GHz and 5 GHz. 
The band you use will affect your speeds and the quality of your connections at different distances from your router. The 2.4 GHz band has better range compared to 5 GHz band, but this band is also used for a other wireless communications, meaning this frequency can get a little "crowded". To reorganize your connections, you should simply log off incorrect bands and reconnect to the correct band on each device.
Connections recommended for 5 GHz band:
Smart TVs & smartphones

Gaming consoles

PCs
Connections best for 2.4 GHz band:
Smart home devices

Security cameras
3. Change your Wi-Fi frequency channel
In addition to making sure your connections are on the correct Wi-Fi frequency band, you can also change your router's frequency band channel. 
There are a several different channels within each frequency band, and while most routers automatically choose this for you, sometimes they can choose wrong. To find the best Wi-Fi channel, you can:
4. Prune unnecessary connections
Everything that's connected to your network should be essential.
A good way to clear unnecessary connections is to simply change your Wi-Fi password, and log back in to your network with the new password on every device you use. Alternatively, some routers come with a home networking app that shows you the devices connected, allowing for a simple removal of unwanted connections without having to disrupt your whole Wi-Fi network.
5. Move your router to a better location
Don't relegate your router to a basement or closet—that's just setting yourself up for connectivity issues. 
Wi-Fi can't travel far, especially if its signal gets interrupted or blocked by walls, floors ceilings, furniture etc. Moreover, signal can also get interrupted by radio waves from other devices, including baby monitors, microwaves & bluetooth speakers. So if your router is stuck in a corner of your home, you will want to move your router to a central location, near where you use the internet most often.
6. Extend your Wi-Fi network
If your router is in a central location but you're still having speed or connectivity issues in certain areas of your home, you may need to extend your network's range.

There are several different devices you can try, but we recommend mesh Wi-Fi system such as our Unify® Network. These scalable networks include one or more devices that work together to create a Wi-Fi network that is considered best for full-house coverage, especially if your house is large or has a complicated layout. If you have just one dead Wi-Fi zone, a booster would probably be a good fit.
7. Upgrade to faster internet
While these tips will do the trick for most people, sometimes your internet connection is simply too slow to sustain your internet consumption. If that's the case, you'll need to upgrade to a faster internet plan to get better Wi-Fi speeds.
Unsure what internet speeds you need to support your online habits? Call 1-877-955-9477 or send an email at wispsales@wisponline.ca to get in touch with our professionals.